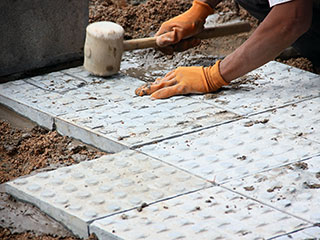 Transform your property's sidewalks from bare functionality to fully-fledged design features. Pavers enable you to create the perfect complement to your existing landscape design, accentuating features and providing even more of a "wow factor". They're also a very sensible choice functionally - they offer improved safety and grip in all weather, and are very easy to maintain.
Choose Your Ideal Landscape Design
You'll be able to select from a wide range of different paver designs and colors when creating your new sidewalks. Everything from Mediterranean cobbles to brick tiles and slates can be incorporated into the existing landscape, along with a wide array of patterns from jack-on-jack to pinwheel. This gives you plenty of scope to design a walkway that does much more than take you from A to B.
Safe and Stable Surface
Pavers boast much better water drainage properties than other materials like stamped concrete. This is because the gaps between each brick are filled with sand that enables water to drain naturally down into the gravel underlay, then into the earth below. No standing water and a naturally textured surface means your walkways will be safe to use all year round. The landscape won't just look great, it'll be safe to wander through as well.
Easy To Care For
If an asphalt sidewalk gets damaged, you'll have to tear it up and re-lay it. This is expensive and difficult, requiring lots of specialist equipment - pavers are much easier to repair. Individual bricks can be extracted with little more than a pair of screwdrivers and a mallet, and replaced with brand new ones. Annual maintenance consists of resealing the bricks against UV rays, which can damage them and cause the colors to fade.
Paving and Landscaping Experts Near You
If you want the benefits of paved sidewalks for your home in Laguna Niguel, Pillars & Pavers Laguna Niguel is the team to help with that. Get in touch with us and let's redesign your landscape so it looks exactly how you want.