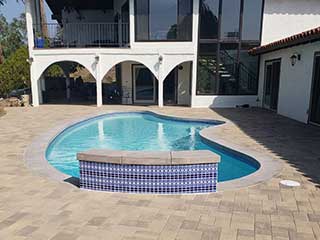 Professional And Quality Work
Getting pool deck pavers installed is a fantastic option for any home. They bring beauty to your pool area and are slip resistant, making them much safer than other materials commonly used. When you choose us, you will get the best service around and high quality products you'll love. There are many different design options to choose from as well, along with custom options. So whatever the style or look you're going for, our experts will help you achieve it!
Take Care Of Broken Pavers
Having a visually pleasing poolside area is important when you're having company, so finding a broken paver can be frustrating. Not to worry, our team is more than happy to come assist and take care of it for you. You can count on us to remove any damaged pavers you may have, and replace them with new, matching ones. It'll look like nothing ever happened and you won't have to be bothered by it anymore!
Seal Your Pavers For Protection
When your pool deck pavers are treated with sealant, it is a great maintenance tool that will keep them looking as new as day one. It helps prevent stains and color fading and there are a few different types to consider when getting sealant. Whether you are looking for a natural look, wet look, or anything in between our experts are more than willing to help you accomplish it. Keep your outdoor space protected and looking beautiful for a long time with us by your side.
Get Great Service Starting Today
Our team of professionals is here for any of your needs related to pavers of any kind. With great experience and top notch customer service, you'll be glad to have us at your disposal. Contact us today and make your appointment, our experts are always ready to help!