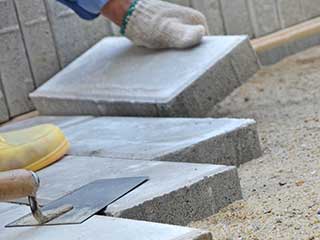 As an excellent alternative to concrete or asphalt, pavers are one of the most desirable landscaping materials around. You'll find pavers drain water quickly and stay stable throughout the year, whilst also providing an attractive custom design for your property's landscape. Whether you're investing in a new driveway or a backyard patio, it's important to ensure the area in question is paved properly.
Digging The Foundations
Firstly all obstructions will be cleared out of the way - this can be debris from old surface materials, tree roots, rocks or anything else. This rubble will all be removed to provide a clear surface on which to lay the foundations of your new pavers. Foundations will be prepared by digging into the ground, usually about a foot, and ensuring the earth is flat and stable.
Laying The Groundwork
Once the ground is prepared, layers of material will be added to create a stable foundation. Firstly, an anti-weed mat is laid down, then a layer of gravel. Gravel is ideal for paver installation since it allows water to drain quickly and evenly. On top of this comes a layer of sand, which flattens out the surface and provides a base layer for the pavers to sit on.
Installing New Pavers
Now that the groundwork is prepared, the pavers themselves will be installed. Carefully adhering to the pattern you've decided on, these will be put in place with a gap of about half an inch between each one and its neighbor. This helps us ensure minimal weed growth and proper drainage that doesn't result in ugly, asymmetric gaps or unbalanced landscape sections.
Filling and Sealing The Pavers
Finally, polymeric sand will be poured into the cracks between all the pavers and wetted to enhance the adhesive qualities. After 24 hours, the bricks are ready to be sealed, and a protective layer is applied to ensure they're protected from staining and UV rays.
Expert Paver Installation
Pillars & Pavers Laguna Niguel has years of experience providing top-quality paver installations in Laguna Niguel. From new driveways to patios and walkways and even water features and fire pits, our team always works hard to provide landscape features that will last for many years. Contact us to learn more.