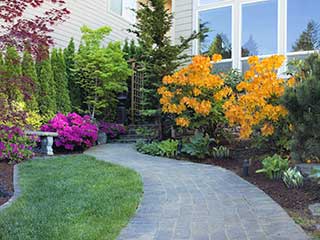 Create an attractive and functional focal point for your backyard landscape by investing in a paved patio. You'll not only benefit from the amazing range of custom bricks and design options, you'll also have an outdoor surface that's hardwearing, easy to take care of and safe to use all year round.
Creating The Perfect Backyard Patio
There's no such thing as a "standard" patio - every home is different and requires a different touch. You know better than anyone what your home needs, and when you choose a paved patio, you're the one in control. Choose from a huge range of different tile designs, from brick to flagstone, slate, and cobbles. Each design also comes in many different colors, and can be arranged in patterns from herringbone to pinwheel. The choice is yours - but Pillars & Pavers Laguna Niguel is always happy to help you with landscape design ideas.
Safe To Use Any Time
Concrete, asphalt, and wood are often used as alternatives to pavers and utilized for all sorts of landscaping efforts. However, these materials present several drawbacks. Critically, none of them handle water very well - asphalt and stamped concrete won't allow proper drainage, while wood is extremely slippery when wet, and will become warped and rotting if not properly treated. Pavers, on the other hand, let water drain through their sand-filled joints easily, and provide excellent traction underfoot even when wet.
Straightforward Maintenance and Repair
Pavers can be expected to last for generations, but do require some upkeep. Luckily, this isn't much; an annual application of sealant is the most you'll usually need to consider in order to protect the bricks from UV rays and weather damage. If you do have to make repairs, it's not hard - individual damaged bricks can be pulled out and replaced with new ones very easily and cheaply. This will allow you to maintain the look of your front or backyard landscape in a simple and affordable way.
What's Your Perfect Patio?
There are lots of reasons to choose pavers for your new backyard patio in Laguna Niguel. To see how Pillars & Pavers Laguna Niguel can help you bring your landscape vision to life, get in touch with us.
Count on us when it comes to:

Paver & Flagstone Patio

Driveway Paver Installation

Outdoor Irrigation & Lighting

Decorative Rock Outdoor Living