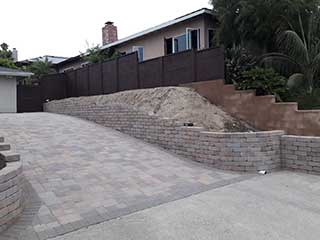 Want to make a great first impression when people arrive at your Laguna Niguel home? A paved driveway is an excellent way to do exactly that. With custom paver designs you can build a front landscape entryway that complements and accentuates your property, as well as being highly functional and hard-wearing.
Create The Ideal Driveway
Because pavers are produced in a huge range of styles, from old-fashioned cobbles to modern slate and flagstones, you'll have an enormous range of designs to choose from. This means you can mix and match to find the exact right style to wow your visitors. Not only can you decide on a set of bricks that suits your home perfectly, but you can also decide on a custom pattern; anything from running bond to pinwheel.
Practical and Hard-Wearing
Pavers aren't just about providing an attractive finish. They're also one of the most sensible choices from a functional point of view, as well. Bricks are sealed with polymeric joint sand, which allows water to drain quickly and easily away rather than pooling into puddles. This means you can rely on your driveway to always provide a good grip and safe footing to yourself and your family and/or guests.
Pavers Are Easy To Maintain
It's not hard to take proper care of pavers. Simply applying a new coat of sealant once a year is enough to prevent UV rays from damaging the finish. In addition to this, any bricks that are chipped or cracked over time can be swapped out and replaced individually. With alternative surface materials like stamped concrete, you'd need to rip up and resurface the area, so pavers are a lot easier to keep in good shape.
Get In Touch With Pillars & Pavers Laguna Niguel Today
Our team can help all nearby homeowners find the perfect paver design for their new driveway. Don't settle for anything less than the best. Contact us to learn about the wide range of landscape designs and paving materials available.
Give our team a call if you need help with:

Hardscape

Stone Paver Installation

Custom Backyard BBQ Grills

BBQs, Pools/Spas, Artificial Turf